Our enterprise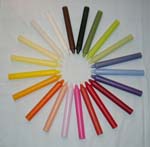 Our family enterprise has been alive since 1991 this way ensuring more than 20 years of experience on the field of candle manufacturing.

The main profile of our enterprise is candle, tee-light and torch manufacturing. Currently we produce parraffin products in more than 200 different size and 22 colours. The combination of these two features gives almost endless possibilities. The dinamic development of our enterprise is shown by the widening sphere of our our customers. The development is also shown by the increasion of parraffin consumption. While 20 years ago our parraffin consumption hadn't been more than a few hundred kilograms per year now it reaches over 15 tons per year.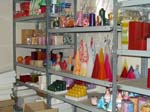 In the distribution of our products we can rely on domestic retailers and dealers as well as non-hungarian companies - we are in connection with German partners for 8 years. The high quality of our products is guarantied by the fact that all of our products are hand-made. The technology we use ensures that our candles burn for a longer time than average, pressed candles.
We can accept special orders with a deadline according to the quantity of the required candles.
We can satisfy special needs for firms and individuals alike.
e.g. extreme sizes, objects embedded in the candle, etc..

Every candle can be made in several variants according to our
colour and scent possibilities